My Remote Access Services
Visit this page for information on mobile access to campus technology and other resources
Remote access from home or abroad is available to campus resources via VPN and remote desktop. Please review Remote Access Reminders to insure optimal experience for connecting.
LinkedIn Learning offers high-quality comprehensive instructional videos for a diverse range of applications including Adobe Creative Suite and Office 365 suite such as Word, Excel, PowerPoint, OneNote, SPSS, EndNote, etc. Content covers a wide range of subjects including "soft skills", coding, leadership development, business writing, creativity and many others.
Microsoft Multi-factor Authentication (MFA) provides additional privacy protection and security to Microsoft Office 365 accounts.
The following applications and services are most widely used by students across The City University of New York.
The CUNY IT Help customer service portal
CUNY IT Help provides students, faculty and staff with easy, free text search access to over 1500 articles from the CUNY and CIS-managed technology websites copied to the ServiceNow knowledge repository. To date, we have published the essential how-to instructions, FAQs, policies, forms and reference materials for the following CUNY-wide applications and services:
Accessibility
Blackboard
CUNY Alert
CUNY Login
CUNYfirst
DegreeWorks
Distance Learning
Dropbox
Everbridge Health Screening app
FACTS
Global Search
Information Security
MS Office 365 for Education
MyInfo
Remote Work
Schedule Builder
Virtual Desktop (VDI)
Zoom
CUNY IT Help also has recent CIS Service Desk planned maintenance and service disruption messages in the Enterprise Service Desk Announcements space. In the coming months, CIS will transition from the CUNY website to CUNY IT Help as the primary source for technology help and reference information as well as service disruption messages for enterprise (CUNY-wide) applications and services You are, of course, encouraged to explore CUNY IT Help—we would like your feedback, particularly first impressions regarding ease of use and the ability to find the information you seek. If you prefer a live demonstration before exploring CUNY IT Help, look for a separate invitation from me to attend a CUNY IT Help meeting where you can learn more about CUNY IT Help and how the CIS Service Desk plans to integrate it within our support model.
Whenever there is a CUNY affiliate email in Blackboard, it does not get updated. Please follow the steps below to update your email in Blackboard (ONLY):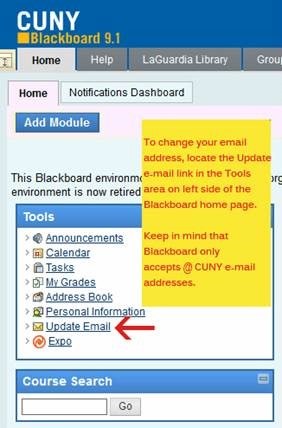 >Sign into Blackboard
>Go to the Tools section
>Select Update Email (see screen shot below)
>Confirm your email then click Submit
Limited printing is available on campus for the limited onsite labs which may be in session. 
How to Use Cardinal Print Webprint?
Go to https://cprint.york.cuny.edu
Please be aware that after using the steps below, you will need to login to the actual Ricoh copier in order to release your print job. You can send jobs to the copier this way but they will not be released until you login to the copier.
Enter your username and password, and then click Log in.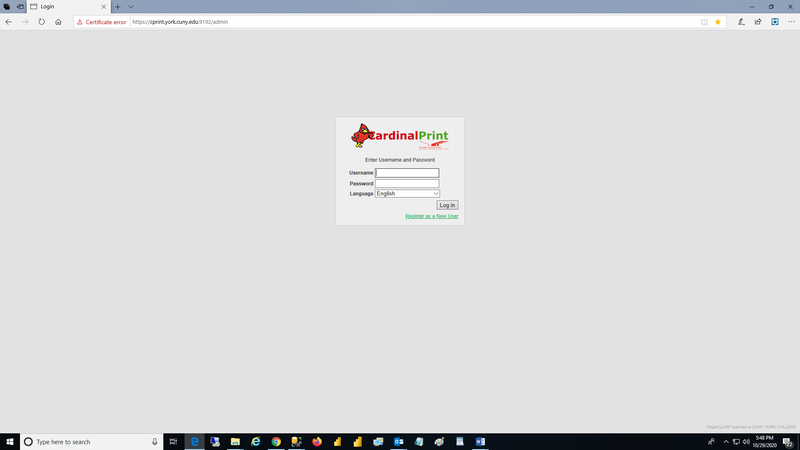 Once login, click Web Print.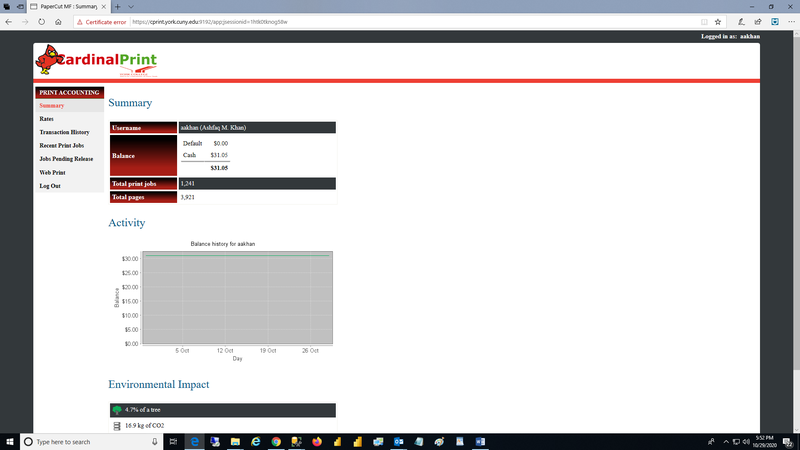 Click Submit a Job.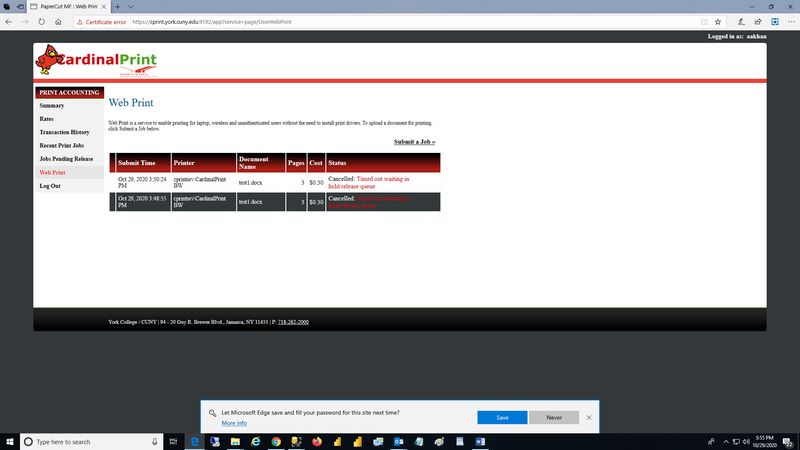 Select the print queue and then click Print Options and Account Selections.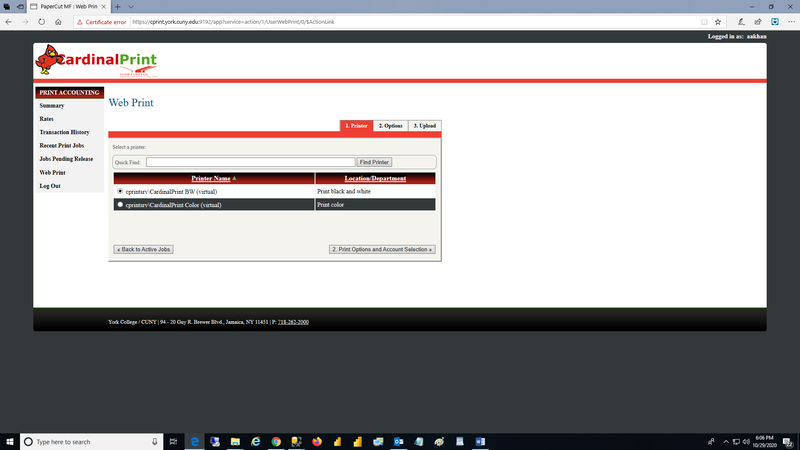 Click Upload Documents.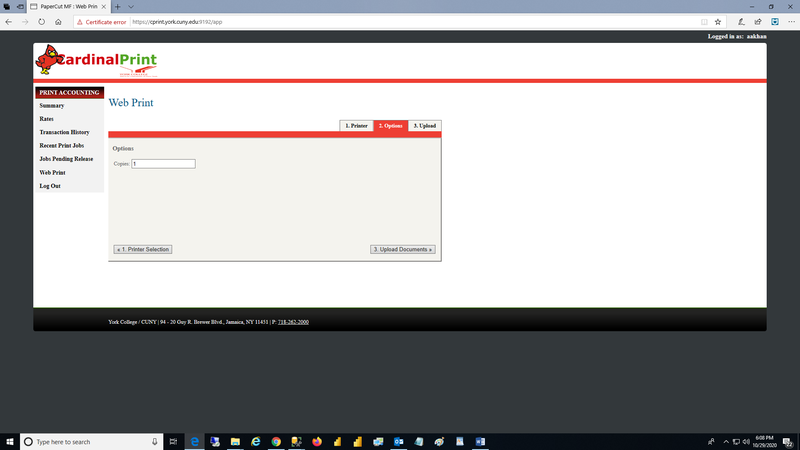 Click Upload from Computer.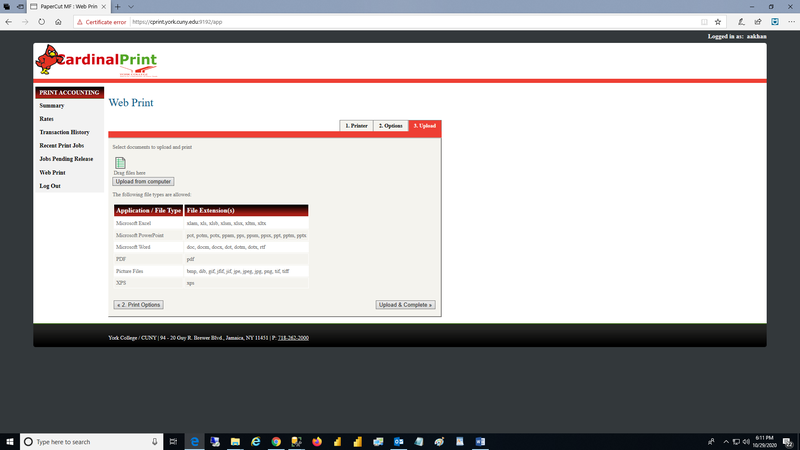 Find and select the document you want to print and then click Open.
Click Upload & Complete.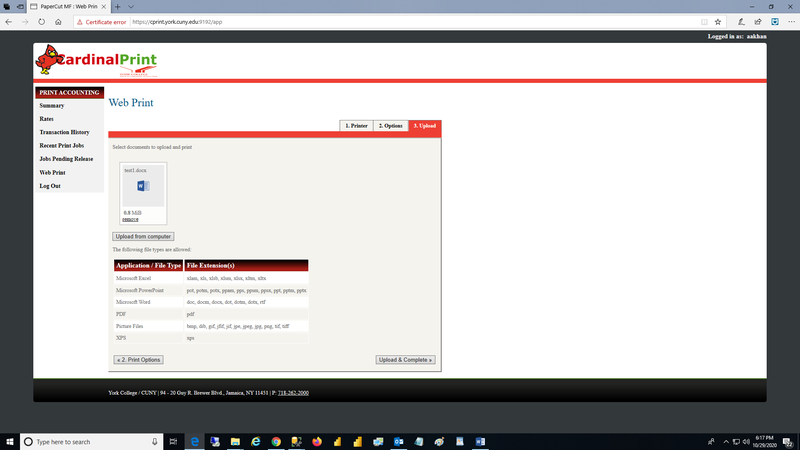 At this point your job already went to Ricoh MFD (copier/Multi Function Device,) and held on the queue there. You need to login to Ricoh to release your jobs.