CLIP

CUNY Language Immersion Program
Department of Foreign Languages/ESL/Humanities
Science Building, Room 114
Tel: 718-262-3766
Fax: 718-262-3763
CLIP Directory
CUNY Language Immersion Program
The CUNY Language Immersion Program offers students who have been admitted to a City University of New York (CUNY) college the opportunity to spend more time learning English in an academic environment before formally enrolling in college courses. The Program operates 25 hours a week, with day and evening sessions available.
Mission
The mission of the CUNY Language Immersion Program at York College is to effectively prepare students with limited English proficiency to achieve the cognitive academic language competency necessary to succeed in college. We offer academic programming and specialized support services that enrich the life of every student and demonstrate our commitment to excellence in teaching.
Goals
Provide academic preparation to ESL students.

Help students become autonomous learners.

Assist students develop competencies to overcome language barriers in the
learning process.

Help students develop computer skills.

Educate students about college life.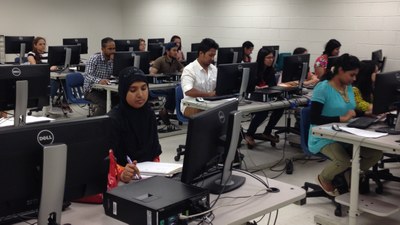 About the Program

Students in the program acquire the reading, writing and oral communication skills necessary to be successful at CUNY. The Program's instructional philosophy reflects a holistic approach to language development in the context of academic preparation. This includes classwork, research projects, computer-assisted learning, orientation to college, and tutoring.
How can I attend the program?
You must be an entering freshman who has already been admitted to one of the CUNY colleges. This program is voluntary. You may decide to attend if you wish to learn more English before beginning college courses, or your college advisor may refer you.
How long may I stay in the language immersion program?
You may enroll in the Language Immersion Program for up to three cycles (one year). Your place in college is still reserved for you during this time, and you will receive assistance when you are ready to return to campus.
How much does the program cost? Can I use my financial aid?
During the time you spend in CLIP, you will not be using your Financial Aid. Please see the information on this website for registration, fees, and testing, or call the Program at (718) 262-3766.