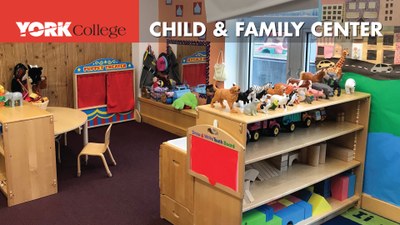 York College Child and Family Center
The York College Child and Family Center, located on the site of the former St. Monica's church, provides a quality child care and early education program for children of York College Students, Faculty and Staff.
Our Services Include
Flexible Scheduling will be offered to parents using their class schedules as a basis for their child's enrollment. Flexible scheduling allows parents to only register their child/children for the days and hours needed for class, work-study, fieldwork or studying.
Professional Staff consisting of certified teachers, assistant teachers, and aides. Our center offers an early childhood education program in a homelike, multicultural environment. Our teachers plan developmentally appropriate activities, that stimulate the intellectual and creative abilities of each individual child while enhancing other developmental skills.
Support for Student, Faculty and Staff Parents a parent/staff resource room has been incorporated to provide a lending library, a lounge area, a work area with one computer and space for meetings. Parents will be able to borrow children's books from the lending library, sit for a few minutes in the lounge area before picking up their child or attending classes. Small workshops or presentations on specific topics related to parenting, careers or academics will be held in the Resource Room.
A Resource for the College Community: The Child and Family Center will become an integral part of the academic community by serving as a work-study, fieldwork and observation site for interns from various academic departments.
Further information
The center will operate Monday through Thursday from 8 am to 6 pm, and  5:00 p.m. on Fridays. The Center is licensed by the New York City Department of Health and Mental Hygiene.  

 Enrollment in the center is available for York College students and Faculty/Staff children, 6 months – 4 years of age.  Faculty/Staff child care is a first-come-first-serve basis.

Children are registered in accordance with the parents' class or work schedule. The center does not provide emergency care, drop - off or babysitting services.

The center will follow the York College calendar during the spring and fall semesters.  Summer sessions will vary according to the needs of the York student parents and Faculty/staff work schedules. 
York College Child and Family Center

94-12 160th Street,
Jamaica, NY 11451
Tel: 718-262-2930
Email: yccfc@york.cuny.edu
On the site of the former St. Monica's church