Math Dept. Colleagues Join Forces on Important Grant
Dr. Rishi Nath and colleague, Dr. Edoardo Carta-Gerardino, his Math and Computer Science department colleague, recently scored an NSF grant as PI and co-PI respectively.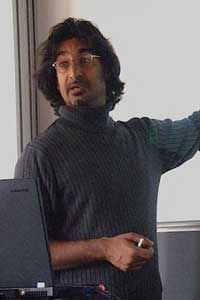 According to the Office of Sponsored Research, the year-long (8/1/22 to 7/31/2023) grant will fund Research Experiences for Undergraduates (REU). The total award is $369,125 and marks the beginning of a productive collaborative relationship between the two Mathematics professors. Dr. Nath, a veteran Mathematics scholar and Dr. Carta-Gerardino, the department chair.
The program is known as the Queens Experiences in Discrete Mathematics (QED) Research Experiences for Undergraduates (REU) program; and According to Dr. Nath, designed for college students, "but can include high school students who are graduating and entering college." The college-aged students come from a cross-section of CUNY institutions.
"We have our first cohort of nine students," said Nath. "They include students from Queens College, Baruch College, Hunter College, LaGuardia Community College, Borough of Manhattan Community College and York College."
Nath, who has expertise in Algebraic Combinatorics, Representations of Finite Groups and Partition Theory, explained how the impressive grant materialized.
"When Dr. [Edoardo] Carta-Gerardino became Chair in fall 2021, he reached out to me to work together on some projects," said Nath. "We both realized we have a passion for working on research projects with students, and that our mathematical specialties (formal language theory, automata theory, partition theory, and algebraic combinatorics) fall under the general umbrella of "Discrete Mathematics. We decided to apply to the National Science Foundation (NSF) for REU funding. Dr. Carta had the idea that we should make the program a year-long one, instead of during the summer, allowing for a diversity of candidates from around Queens and New York who might otherwise not be able to leave for the summer."
The professors decided the first semester would involve training students, while in the second semester they would group participants off into small groups and work on research problems.
"Our special focus is on reaching and integrating underrepresented groups into mathematical research," Nath explained. "This includes women, African-American and Hispanic students, students with disabilities, students who attend community colleges and first-generation college students, for example. This aligns with NSF goals and they were confident we could do it."
Dr. Nath says their goals "include helping undergraduates publish original mathematical research, as well as guiding students from community colleges and senior colleges into graduate schools." Fortuitously as Nath explained it, one of the strengths of their application was that Dr. Carta himself was a product of an undergraduate research experience and said so [in the application]. Another strength is that Nath had worked with the University of Minnesota Duluth REU and published an article about student research in the area of partition theory.
Institutional support was also important to the application process.
"Along the way we received lots of support from Provost Brazill and Dean White (interim dean of the School of Arts and Sciences)," said Nath. "One of the innovations we came up with was to offer credit-bearing seminars that participants could take to get credit for their research. "We also received support from our colleagues at Baruch College, who have their own summer Math REU. Drs. Adam Scheffer and Pablo Soberon opened up their contacts and their battle plans for us to see."
Professor Nath, a favorite amongst students over the years, says he hopes to reach between 25 and 30 students over the first three years of the program.  Each participant will receive a stipend and travel support for a conference that totals $9,000 per year.
"As far as we know, this is the first REU hosted at York," Nath said. "It is certainly the first time York has hosted a mathematics REU, and only one of two mathematics REUs in the CUNY system. The grant aims to guide students towards new results in active areas of discrete mathematics: algebraic combinatorics, automata theory, and formal language theory, which all sit at the nexus of many other fields. Partition theory, for example, connects with representation theory and modular forms, while automata theory integrates ideas and results from graph theory, algebra, and theoretical computer science."
Nath added that any new results in these areas can be of interest to the wider community. "The grant will serve as an incubator where undergraduates with otherwise little chance of participating in research projects can experience the process of writing an original paper and make progress towards an existing question and develop new ones," Nath said.
Dr. Carta-Gerardino too, looks forward to the implementation and outcome of the grant.
"Mathematics has always been at the core of the STEM disciplines," said Carta-Gerardino. "Our REU will give students the opportunity to make their own contribution to this collective body of knowledge. Our emphasis on diversity and inclusion will help increase visibility of underrepresented groups in graduate school and the workforce."
Dr. George White, interim dean of the School of Arts and Sciences, couldn't be more pleased with this latest success in his school, which has reported several grants this year.
"The significance of the work of Drs. Nath and Carta-Gerardino cannot be overstated," said Dr. White. "They have taken a novel approach to undergraduate research, used it to win a sizable grant from a federal agency and committed to training a diverse (in terms of race, gender, class, disability and sexual identity) cohort of students.  The QED REU will help attract students to York and just might change the face of American mathematics."
Congratulations to our professors who join forces to create success for themselves and students.