Beloved York Colleague Brunilda Almodóvar Retires
After 42 years, first as student and then as staff member, Brunilda "Bruny" Almodóvaris saying adios to her beloved York College.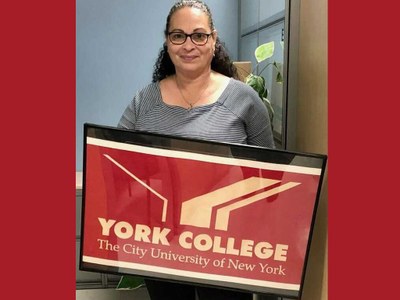 "I entered York on September 10, 1979 and my retirement was official as of September 10, 2021," Almodóvar said of the intentional retirement date. "York College was housed in the Montgomery Ward building on Jamaica Avenue at that time and we were attending classes all over Jamaica."
Born in Williamsburg, Brooklyn and raised in Bedford Stuyvesant before the family moved to Queens Village, Almodóvar says at the time she registered as an undergraduate at York, the college was still using "little cards" as opposed to the sophisticated process now used with the aid of high tech computers and hand-held, high speed devices. However, she would not change anything about her experience.
"We were in different locations and were so small, but we participated in many activities just like students at any other college," says Almodóvar, who majored in Bilingual Education. "I joined many clubs, such as the Puerto Rican organizations and they created the Latin Caucus in late 1979; and I was even part of the Italian Club. We held dances and you felt you were in college."
Almodóvar also found mentors on all levels of the college and remained close to Dr. Arleen Cedeño-Schreiner of the Counseling Center. They remained in touch even after the now-late Dr. Cedeño-Schreiner retired and moved to Florida. She also became a work study student, getting a job in the Student Development area (now known as Student Affairs) and transitioned to a bona fide York employee upon graduation. Almadovar worked in the Counseling Center, the Scholarship Center, and the Advising Center. She also earned an MS Ed. in Guidance and Counseling at Queens College.
She built so many relationships at York that she has had to create two separate Facebook accounts to streamline the process. She has one account for York Classmates and one for former student mentees, one of whom, Sameea [Perkins] Bell , now directs the SEEK Program at York.
Generous to York with her time, talent and treasure over the decades, Almodóvar says she will always love her alma mater and be helpful however she can. Her last supervisor, Dr. Donna Chirico, a Psychology professor and former dean of the School of Arts and Sciences, has high praises for Almodóvar.
"I have known Bruny forever," says Dr. Chirico. "Our student time did not overlap, but when I returned as an adjunct, she was working part time too, in the Student Development division. Hence, we have known each other about 38 of her 42 years."
Professor Chirico also fondly recalls Almodóvar's sense of community at York. "When I served as dean, we had annual holiday parties in the H-Wing," she says. "These parties started small (just the Office of Academic Affairs) and then involved the entire wing. You could count on Bruny to bring buckets of her homemade coquito - both with and without alcohol. More importantly, you knew she would be the life of the party joining in on whatever singing or dancing was happening. She encouraged inclusivity and would reach out to those at the margins to join in the fun."
As Almodóvar's supervisor, Dr. Chirico also recalls a dedicated employee.
"Bruny ran the Advisement Center with the same spirit of student-centeredness that she approached every activity during her years at York," says Chirico. "She is not a person who sits in her office while others handle the students' issues. She was personally involved, greeting new students, assisting those having difficulties, and, she always kept me informed of what was happening so there were never any surprises for OAA. It was a perfect match because Bruny knew we in OAA were just as student-centered and she could bring students who needed assistance beyond the services of the Advisement Center, to us any time."
Asked how she thinks Almodóvar will be as a retiree from York, Chirico reached into the past to predict the future.
"Bruny is what some of us old timers refer to as a brick holder," Chirico says. "As the campus grew and transitioned from buildings that were sprawled throughout Jamaica to its current campus, she was there to ease the growing pains assisting others at every step. Bruny sees the institution as a whole and is devoted to York College." 
Dr. Chirico added that Almodóvar "impacted the lives of hundreds of students who participated in everything from campus events to student government leadership trainings. As higher education in general has shifted to a more corporate model of operations where instead of individuals we see aggregates of numbers, people like Bruny maintained a personal involvement in the lives of students and colleagues. Her care and concern for the students and the intuition are unmatched. I missed her at Convocation 2021 singing the "Alma Mater" loud and proud with me!"
So as she takes her professional leave of York College, Almodóvar, who is retiring years younger than the norm, wants the college to know that she will still be part of the family.
"While I look forward to enjoying my retirement, I will miss my colleagues and the students of York College," she says. "I appreciate the support provided to me during my tenure. I am so grateful for the numerous opportunities for professional and personal development that York provided me over the past 42 years. I am definitely looking forward to all the amazing things that will be coming out of York College in the future. This is not goodbye; it's Hasta luego."