Salutatorian Hails York Experience as 'Fascinating and Enriching'
The York College salutatorian of the Class of 2023 has been named, along with the salutatorian, by Provost Derrick Brazill.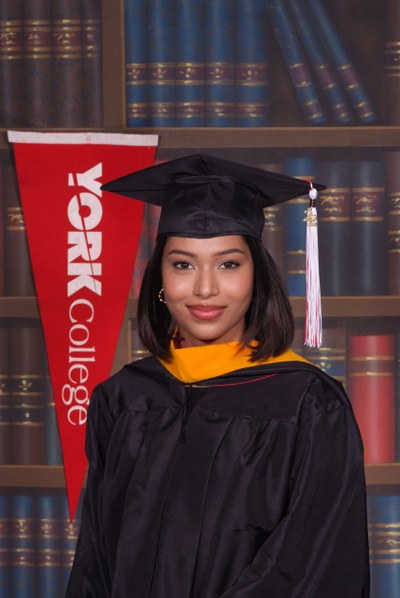 Victoria Persaud, an Accounting major, was born in Venezuela to a mother native to that country and a dad from neighboring Guyana. Ms. Persaud arrived in the United States with her family at the age of seven and settled in Queens. As for what brought her to York College, Persaud explained the draw and the glue.
"Apart from wanting to remain close to home, I was drawn to York because of the diversity it is surrounded by," she said. "It's truly incredible how you are able to find individuals from all backgrounds [here]. Along the way, I have made some amazing connections and absorbed as much knowledge as I could, but I imagine that Commencement will be the most gratifying part for me."
Persaud said that while she does not have a particular academic mentor, she found the staff members and accounting professors "very helpful and always ready to answer my questions and provide guidance if needed."
The third and final sibling in her family to graduate from York College, Persaud said among the many opportunities she participated in at York, was the VITA program. The Volunteer Income Tax Assistance (VITA) program is an Internal Revenue Service (IRS)-sponsored program established more than 40 years ago by the Federal Government and brought to York 15 years ago. It thrived under the leadership of Accounting Professor Robert Clovey, who laid the groundwork and marketed the service.
"The VITA program provides underserved communities and low-to-moderate income individuals who cannot afford professional tax preparation services with free filing assistance." York Accounting and other majors; and some high school students are trained to serve the community as income tax preparers throughout tax season each year. It has brought back millions of dollars in income tax returns, while saving millions in filing fees.
"It was a fascinating learning experience," said Persaud, a full-time outside employee with an impressive resume for a student. "It gave me a glimpse into taxes, and a taste of what it would be like in that concentration of accounting."
For Persaud, whose next goal is to pursue a Master's degree and take the CPA Exams, York has prepared her well for life beyond York.
"My experience at York has been such a rewarding one," she reflected. "Of course, there were ups and downs; but in the end, it was such an enriching experience and I've gained immense knowledge that I plan to apply on all my future endeavors."
Kudos to Ms. Persaud on her stellar achievement!