Information about the Department of Performing and Fine Arts facilities at York College.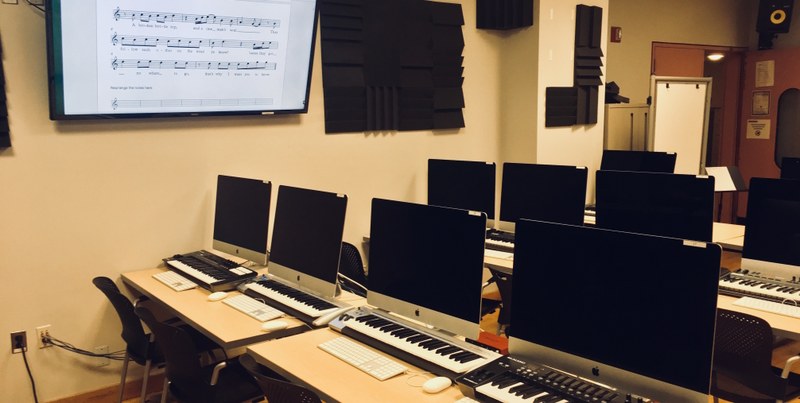 LL02 Lower Level Computer Lab
Communications Technology
Multimedia Lab
AC-4M03
The 4M03 Multimedia Lab is York College's premier multimedia production and post-production facility. Consisting of 25 5K editing station and two private editing suites, students take advantage of this space to not only learn modern media production techniques but to produce high-quality audio, video and web content. Although this space is primarily used by the Department of Performing & Fine Arts, it is open almost year-round to the York College community. With college staff on-hand to assist students and faculty in the creation of stunning media and entertainment, almost anything is possible in the Multimedia Lab. 
Makerspace and Fabrication Lab
The York College Makerspace and Fabrication Lab is home to an advanced workshop of hand-tools, 3D printers, computer controlled milling machines, woodworking equipment, and an advanced IOT programming facility. Home to York's competitive robotics teams, this facility exists to build upon your dreams of becoming an inventor, artist, and maker. Staffed with knowledgeable faculty and assistants, the Makerspace facilitates the access of digital fabrication to the York College student body. 
Television Studio
AC-4M04
The 4M04 live production television studio is home to Jamaica's finest television production facility. This fully featured high definition live production studio consists of advanced lighting control equipment, three studio-quality HD production cameras, and a solid-state record and control facility. The studio is also home to a fully featured, 15 seat media lab and production space. Although the TV studio is focused on live television, it also serves as a space for photography, news content, and other media to be produced.
Students in a photography course.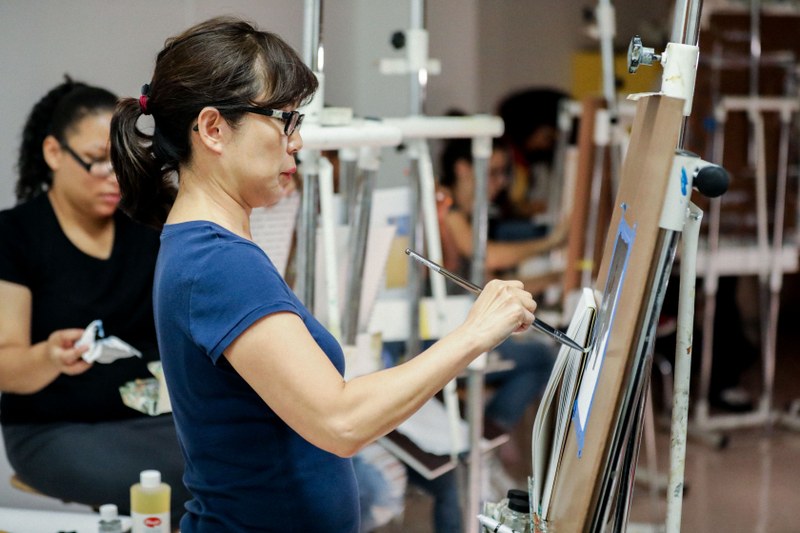 A student working during a drawing class. (Photograph by Laura S. Fuchs.)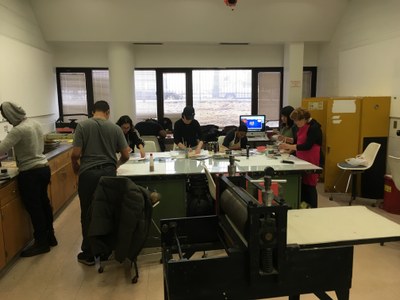 Students working in the Printmaking Studio
Sculpture Studio
The sculpture program offers students the essential skills to create unique personal three-dimensional expressions. Through class projects, students will be encouraged and enabled to explore their own artistic visions and ways of incorporating them into objects that echo traditional ways of making sculptural art while exploring new methods and materials. The sculpture studio is equipped with a variety of basic hand and power tools in addition to a wood shop and plaster working area with ample natural light. For students wishing to work with digital media, the studio has Mac desktops containing appropriate software.
Painting Studio
In the painting studio, students are introduced to traditional oil painting mediums and techniques using natural and non-toxic painting practices. While learning to paint from the still life and figure model, students learn how to mix color, prepare canvases, and maintain safe painting and clean-studio habits. This immersive art experience offers students a thorough understanding of and practice in the long tradition of representational painting as well as exploring abstract and expressive painting compositions.
Drawing Studio
The Drawing studio has a full wall of windows letting in natural light that offers excellent lighting choices. Space provides ample room for students to work from still-life and live models using large-scale easels and on large format paper.  Students learn to use all standard drawing materials from charcoal to hard graphite on paper surfaces of varying textures.
Printmaking Studio
Located in the A-Corridor on the 1st Floor of the Academic Core Building, the Printmaking studio is home to Introduction and Advanced Classes covering broad range methods including Intaglio-Etching, Plate Lithography, Silkscreen, Lino/Woodcut and Photo-based print techniques. Students are encouraged to combine digital, hand-drawing and, mixed-media Printmaking. The studio is well organized with materials and supply storage for student use to supplement the artwork and materials of an individual student. The facility complies with all health and safety regulations for Printmaking. Students have full use of surrounding critique display boards, ample table and inking space, a light table and an in-class computer. Screens and exposure materials and a 24X50 Charles Brand Etching press are in constant use in the studio.
The Fine Arts Gallery at York College
Located on the First Floor of the Academic Core Building, the Fine Arts Gallery is maintained by the Department of Performing and Fine Arts. Opened in 1989, the Gallery presents 3-4 professional exhibitions a year, ranging from solo and thematic group exhibitions, and student shows at the close of each semester.  The Gallery space, approximately 1000 square feet, is equipped with LED lighting, movable walls, and state-of-the-art projectors and flat screen monitors. The Gallery Director, Dr. Margaret Rose Vendryes, and Manager, Nicholas Fraser accept written proposals for professional exhibitions throughout the academic year.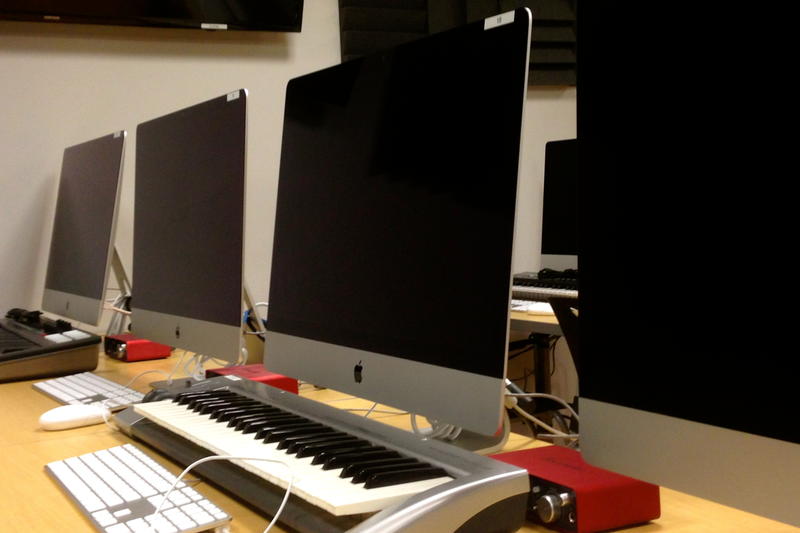 LL02 Workstations
Lower Level Computer Lab 
AC-LL02
The Lower Level Computer Lab hosts 25 iMac workstations, each equipped with a Focusrite interface and a keyboard controller. In addition, the lab features two WhisperRoom sound isolation enclosures (including a vocal booth and an instrumental booth) for recording projects, plasma TVs, audio monitors, a range of microphones, cables, and recording equipment. iMac workstations have access to audio software including GarageBand, Reason, and ProTools. The Lower Level Computer Lab is open to the general York College community during open lab hours, where a college assistant is on hand to assist users with the lab's equipment. 
Music Practice Rooms
AC-LL03
York College students have access to eight Wenger practice modules in the Lower Level of the Academic Core Building (in the same area as the LL01 music classroom and LL02 Lower Level Computer Lab). Each practice module is equipped with an electronic keyboard, and one of the modules includes an upright piano. The practice rooms host the group piano classes, and are open to the general York community for music practice.