TRIO York Enrichment Services
"Enriching the York experience for students with disabilities"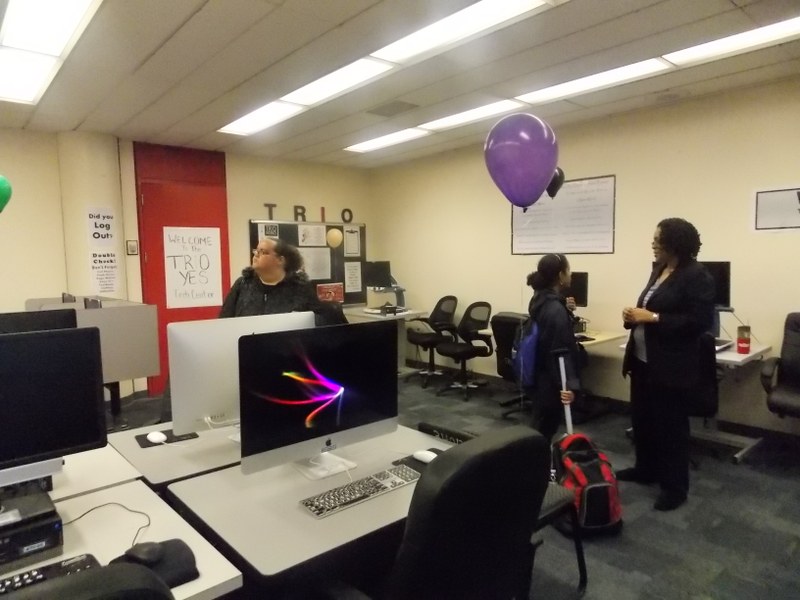 The York Enrichment Services (YES) is a TRIO Student Support Services program funded by the U. S. Department of Education. We provide supportive services to assist students with academic and personal development. Our purpose is to guide and motivate students toward the successful completion of a bachelor's degree. The goal is to increase the college retention and graduation rates of its participants and help students make the transition from one level of higher education to the next.
The YES Program offers the following supportive services:
Academic advisement for course selections
Counseling and personal support
Academic tutoring
Adaptive Technology Center (computers and adaptive equipment)
Resource library for textbooks
Academic success workshops
Financial aid information and assistance
Financial literacy
Graduate school information and assistance
Major/Career Exploration
For further information or to apply to the program, please come to the YES office in AC-1G02. You may also contact us via telephone at 718.262.2274 or 718-262-2423.
The mission of York Enrichment Services is to assist students with disabilities as they work towards completing their bachelor's degrees. In addition to the services that the YES program offers, we partner with the Center for Students with Disabilities to connect services that will accommodate the special needs. To qualify for the program, a student must have a documented impairment which causes a significant limitation to a major life activity.
There are many different types of disabilities. They may be visible or unseen. Physical and medical conditions, emotional disorders, and learning disabilities are examples of impairments that would qualify a student for disability services. Accommodations can also be made for students with temporary disabilities.
YES participants receive the following free services:
Tutoring
One-on-one tutoring sessions are arranged as needed each semester for general education requirement courses as well as many major courses. In order to receive tutoring, you must speak to the Counselor/Coach or Learning Specialist/Academic Coach.
Counseling / Workshops
YES participants are assigned a counselor, who works with the student every semester until graduation. Counselors work with students on academic advisement as well as personal and career concerns. Workshops on topics such as time management are offered each semester to all YES participants. Check with the YES Counselor for a current workshop schedule.
Adaptive Technology and Equipment
Located in room AC-3G10 in the library, the TRIO YES Adaptive Technology Center (Tech Center) provides a private and quiet study space for YES students. The Tech Center contains computers with the latest software to assist students. The computer lab is designed and designated for use by students with disabilities. Available software includes:
Zoom Text and Zoom Text MAC (magnifies and reads text)
"Jaws" (a text reading program)
"Kurzweil 3000" (a scanning and reading program)
Read and Write Gold (a literacy software to enhance web and document accessibility)
Eight electronic height adjustable tables
Three CCTV's
All our computers have Internet access. The closed circuit televisions (CCTV) increase the print size and can change the background. In addition, students can borrow equipment such as calculators. Individual orientations to the Adaptive Technology Center are offered throughout the semester by appointment. Free training is also available to enhance computer and internet skills. You must be a YES program participant to have access and use the Adaptive Technology Center.
Resource Library
The TRIO Resource Library is available for YES participants. Students who are experiencing financial difficulties (and do not receive a book voucher) can use books for the semester. This service is provided through our sister program TRIO Student Support Services (SSS). In order to access this service, you must first see your YES counselor.
The York Enrichment Services program works with other school resources, such as; the Center for Students with disabilities to advocate for special accommodation that will support the student's academic success. The Center for Students with Disabilities office provides accommodation for eligible students. They are located in the Academic Core Building, Room AC-1G02: the telephone number is 718.262.2191. See your YES or CSD counselor if you need any accommodations.
Accommodations include:
Note-taking
Proctoring
Extended time for test taking
Counseling - Academic/Career/Personal
Referrals
Temporary short-term accommodations