TRIO York Enrichment Services (YES)
"Enriching the York experience for students with disabilities." There are different types of disabilities. They may be visible or invisible. Disabilities may consist of physical and medical conditions, emotional disorders, and learning disabilities. If you have a documented disability you may qualify for the TRIO YES Program. To qualify for program services you must be one of the following: a). First Generation (the first in your immediate family to work towards completing a bachelor's) (4 year) degree; b). Low income (according to the federal poverty guidelines; c). First Generation and Low Income. The following supportive services are free for students who qualify and have an academic need.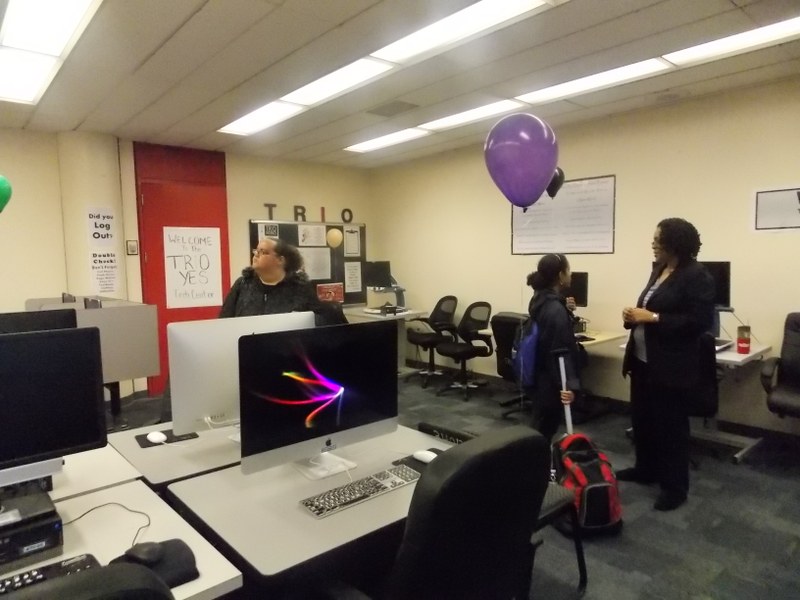 Program Orientation

TRIO Student Day is held at the beginning of each semester.  All program participants are required to attend to receive valuable program information and updates.
Academic Advisement
TRIO YES participants are assigned an academic advisor/coach who works with the student every semester until graduation. Program participants receive one on one academic advisement for course selections according to their majors.  
Personal and Career Counseling
The academic advisor/coach is available to TRIO YES students in need of counseling on a variety of issues, problems and concerns. Referrals are made to the York College Counseling Center for students who may need additional support.  
Academic Tutoring
TRIO YES provides eligible students with tutoring in most academic courses. The tutoring is conducted by high-achieving York college students who have demonstrated their academic abilities and have shown a strong desire to help others. Individual or small-group sessions are held in the TRIO YES Adaptive Technology Center (Tech Center) located in the library.  In order to receive tutoring, you must speak to the Counselor/Coach or Learning Specialist/Academic Coach.
TRIO YES Adaptive Technology Center (Tech Center) 
The TRIO YES Adaptive Technology Center (Tech Center) is located in room AC-3G10 in the library.  The Tech Center has the latest software to assist students with disabilities as well as a private and quiet study area.  The following software is available according to need: 
Zoom Text and Zoom Text MAC (magnifies and reads text)
"Jaws" (a text reading program)
"Kurzweil 3000" (a scanning and reading program)
Read and Write Gold (a literacy software to enhance web and document accessibility)
Eight electronic height adjustable tables
Three CCTV's (closed circuit televisions) increases the print size and can change the background.
Free training is also available to enhance computer and internet skills. Free printing is available and staff members are always on hand to assist.  You must be a TRIO YES program participant to use the Adaptive Technology Center.  
Workshops 
The purpose of the workshops is provide additional information that will enhance the knowledge, skills, and abilities of the program participants on the following topics:   
Financial Literacy
Financial Aid Assistance
Study Skills
Stress Management
Choosing a Career
Improving your GPA
Preparing for Graduate School
Study Skills 

If you are interested in becoming a TRIO SSS program participant and/or would like more information, please contact us at 718-262-2423.  You may also fill out the online intake form, print it out, and stop by our office which is located in room 3E03 in the Academic Core building to speak with the TRIO Intake Coordinator.  Our hours of operation are Monday through Thursday: 8:30 am - 6:00 pm and Fridays; 8:30 am - 5:00 pm.