Southeast Queens Biennial
The York College Fine Arts Gallery hosts the 2018 Southeast Queens Biennial: "A Locus of Moving Points"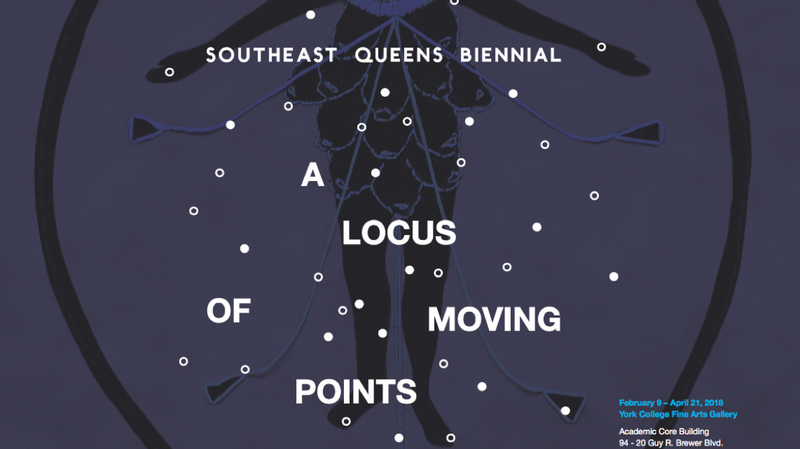 NEW YORK, NY, January 18, 2018 — In its inaugural year, the Southeast Queens Biennial: A Locus of Moving Points identifies movement as an organizing principle for understanding Southeast Queens as a gateway for travel (by air and land), and a source of cultural production and exchange deeply rooted in immigrant communities. This concept finds its roots in the writing of bell hooks, a feminist visionary activist and author, who speaks to the transformative potential of shifting one's focus to consider the margin and center-- not as disparate parts, but as making up a whole body. Locus, from the Latin for "location" or "place," is used in geometry to refer to "the set of all points (usually forming a curve or surface) satisfying some condition." Combined, these concepts suggest an active way of seeing that dismantles the notion of a dominant center by  shifting perceptions of what makes up both center and periphery. .
A Locus of Moving Points features the work of three generations of artists with deep connections to Southeast Queens, who have  never exhibited at York: Damali Abrams, Natali S. Barbee Bravo, Janet Henry, Rejin Leys, Gloria Maximo, Sana Musasama, Shervone Neckles, Odathrowback, Okechukwu Okegrass Ofiaeli, and Elizabeth Velazquez. Dr. Margaret Rose Vendryes, Chair of the Performing and Fine Arts Department and Gallery Director at York College, remarks on the importance of the gallery to Southeast Queens: "The Fine Arts Gallery at York College is one of only two professional visual art exhibition venues in Southeast Queens. As a vibrant part of what the York College Department of Performing and Fine Arts has to offer both town and gown communities, the Southeast Queens Biennial will create valuable new connections." The Inaugural Southeast Queens Biennial was organized by No Longer Empty's 2017 NLE Curatorial Lab in partnership with York College Fine Arts Gallery, and is curated by Sarah Fritchey, Corrine Y. Gordon, Audra Lambert, Rebecca Pristoop, Niama Safia Sandy and Anastasia Tuazon.
The opening reception will be held on Saturday, February 10, from 3 - 7pm, with a series of events:
3pm: DJ P.U.D.G.E. responds to works in the gallery. P.U.D.G.E. started his career as a DJ in the mid 1990s in his hometown of Jamaica, Queens. Studying local legends and Jamaican sound systems, he honed his skills in the "blend-tape" era, perfecting the art of live blends and remixes.
4:00pm: Welcome by Chair of the Performing and Fine Arts Department/Gallery Director at York College Margaret Vendryes; NLE Curatorial Lab Director Rachel Gugelberger; and NLE Lab Curators Sarah Fritchey and Anastasia Tuazon.
4:15pm: A conversation with exhibiting artists Damali Abrams, Janet Henry, Shervone Neckles and Okechukwu Ofiaeli, moderated by curators Corrine Y.Gordon and Niama Safia Sandy.
5:30: DJ P.U.D.G.E. freestyles live. Food and drinks will be served.
Working across media and disciplines in the visual, performing and literary arts, the artists highlighted in the inaugural Southeast Queens Biennial assume roles as activists, educators and advocates for bringing the arts directly to the communities in which they live and serve. Mapping the shifting presence, histories and creative production of its African, Caribbean and Latin American diaspora through the arts, the exhibition serves as a time capsule for a variety of social, cultural and political developments through the lens of artists who have been shaped by Southeast Queens, providing a counter-narrative to the current climate.
The Biennial continues at the Queens Central Library with the exhibition Passages and Notations, featuring the work of Damali Abrams, Salimah Ali, Ify Chiejina, Renee Harper, Corona Johnson, Rejin Leys and Lisa Wade. The exhibition is the inaugural exhibition for the Library's Mobile Museum, a project funded last fall through a grant from the Queens Library Foundation's Innovation Fund, established in 2017 as part of the library's system wide public awareness campaign, Queens Library is for Everyone. The fund supports innovative projects and ideas that are consistent with the goals and spirit of the Everyone campaign launched in April 2017 to reinforce Queens Library's culture of welcoming and inclusion, and expand its impact at a time of divisiveness and uncertainty. The goal of the Mobile Museum is to allow customers to easily view photography and other forms of artwork at Central Library, broaden their cultural horizons and encourage independent learning as well as increase foot traffic in the building.
The Inaugural Southeast Queens Biennial includes a commissioned participatory work by Odathrowback that will culminate in a permanent gift to the York College Public Art collection, and will be accompanied by a series of programs including a commissioned performance by Elizabeth Velazquez; a poetry reading hosted by poet, writer and blogger Sherese Francis; artist conversations; professional development opportunities; exhibiting artist workshops with York College Fine Arts students; and curatorial walk-throughs. A booklet will be published in March, along with  a comprehensive website for the Inaugural Southeast Queens Biennial (www.seqbiennial.com) that will launch March 3, The Essential Jamaica Queens Mix by DJ Tam Jams, a lifelong Queens resident, Hip Hop Aficionado and the owner/operator of Tam Jams Enterprises. For more information and program updates, visit www.nolongerempty.org.
Follow No Longer Empty on Facebook, Twitter, and Instagram  #NLELab #NoLongerEmpty #ALocusOfMovingPoints #SEQueensBiennial #YorkCollegeFineArtsGallery  #YorkCollegeCUNY
About the Partners
The NLE Curatorial Lab (NLE LAB)
The NLE Curatorial LAB (NLE Lab) is a professional development program for emerging curators and arts professionals interested in direct experience curating in an expanded field. With a focus on research, project-based learning, and collaboration, NLE Lab is designed to deepen an understanding of the development of exhibitions and related programming within a specific context in a distinctly urban setting, culminating in a collectively curated exhibition. The program includes a curriculum of critical readings, guest speakers, site/historical research, studio/exhibition visits, and incorporates community engagement as a fundamental component in the formation of curatorial themes. www.nolongerempty.org.
The York College Fine Arts Gallery
Located in Jamaica, Queens, the York College Fine Arts Gallery is part of the Department of Performing and Fine Arts at York College, City University of New York (CUNY). Opened in 1989, the gallery presents 3-4 professional exhibitions a year, ranging from solo and thematic group exhibitions and student shows at the end of each semester. With an enrollment of more than 8,000 students, York serves as one of CUNY's leading liberal arts colleges, granting bachelor's degrees in over 40 fields and a growing number of professional programs granting master's degrees. The York College public art collection includes works by luminaries including Elizabeth Catlett, Frank Stella and Martin Puryear.  http://web.york.cuny.edu/campus-art/project/index.html
Queens Central Library
Founded in 1896, Queens Library is an independent, non-profit public library system and one of three serving the City of New York. It consists of a Central Library and 62 community libraries that attract more than 11.2 million visitors each year. Queens Library is one of the highest circulating library systems in the nation and among the busiest in the world. Visit online at www.queenslibrary.org.
The 2017/2018 NLE Curatorial Lab is supported in part by an award from the National Endowment for the Arts, public funds from the New York City Department of Cultural Affairs, the Laurie M. Tisch Illumination Fund, and Isambard Kingdom Brunel of North America.