York Welcomes Talented New Members To Board
York College of the City University of New York recently appointed three new members to the York College Foundation Board, including two alums and a former York "first lady."
Michel Chow-Tai, VP, Alternative Investments, at finance giant, HSBC brings to the table extensive experience in corporate America and in community support. She is a 1999 graduate of York College as well as having additional credentials in Business Administration and Finance; and professional licensure of Series 7 and 63.
Ms. Chow-Tai is an active member of 100 Women of Hedge Funds, Council of Institutional Investor, National Association of Securities Professionals, Asian American Association of Investment Managers, HSBC Diversity Business Linkages.
A 2006 NELI Award Recipient, Ms. Chow-Tai has received numerous other accolades for her outstanding leadership in the finance community and for her notable civic engagement. She has served on the HSBC African American Diversity Sub-Committee as well as the HSBC USA Diversity Council.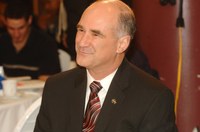 George A. Grasso, a recent appointee to the Criminal Court of the City of New York, is the former First Deputy Police Commissioner for the City of New York, under Police Commissioner Ray Kelly. Judge Grasso, a member of the York College Class of 1980, joined the NYPD while still an undergraduate in 1979, serving the Southeast Queens community on patrol assigned to Neighborhood Stabilization Unit 18. His impressive career has also included tenures in the 63rd and 104th Precincts.
He moved up the ranks, of the NYPD, earning a law degree along the way at St. John's University; and is a graduate of the Police Management Institute at Columbia University Graduate School of Business and a graduate of CORO Leadership New York Program.
In 1997 Grasso became the first – and only -- member of the NYPD to receive the New York City Law Department's Agency Counsel Recognition Award.


Rae Alexander-Minter, Ed. D., comes to the board with a diverse portfolio of educating and fundraising throughout her career in higher education in New York and New Jersey as well as at the New York Historical Society where she was director of Public Programs and Education.
Dr. Alexander-Minter, wife of former York College interim president, Dr. Thomas K. Minter (circa 1995), has served at Metropolitan College (formerly Audrey Cohen College) as Vice President for Governmental and External Affairs, where she built and expanded relationships with city, state and federal officials; and negotiated a $5 million grant from the World Bank for an education program in Malawi, Southern Africa to educate field workers, in a landmark Human Services Curricula;. She was also instrumental in obtaining one million dollars for the Welfare-to-Careers program at the college.
Alexander-Minter has secured impressive public, private and foundation funding while employed as director at the Paul Robeson Cultural Center at Rutgers University of New Jersey.
This all bode very well for Dr. Marcia V. Keizs, president of York.
"On behalf of the entire York College community, I welcome and thank our three new and experienced Board members," said President Keizs. "I look forward to working with the revamped Board, to achieve phenomenal goals for York, chief among them, fundraising for scholarships and academic programs."
We apologize, there was an error rendering this snippet