York Serves Students and the Greater Community During COVID Shutdown
In the midst of the COVID-19 outbreak, the York College campus has been closed to all but essential workers, but the college has been active in service to the larger Queens community as well.
On April 17th, Mayor Bill DeBlasio announced the opening of two new COVID testing sites in high-impact neighborhoods like Jamaica, Queens. The first testing site is based at Queens Hospital while the second is housed at York College in the PAC Parking Lot (Entrance on 165th Street between Liberty and Archer Avenues).
Sponsored by the Mayor's Office, One Medical and the 1199 Union, walk-up testing is currently available by appointment only and has been expanded to test 1199 health care workers, NYC residents 65 years old and older, and essential workers. To schedule an appointment, call 1-888-ONE-MED1.
On April 27th and 28th, a drive-through COVID-19 testing site was operational in the York College Parking Lot and sponsored by Congress Member Gregory Meeks, the 1906 Project, and Southeast Queens Elected Officials.
In response to Governor Cuomo's call for the donation of Personal Protective Equipment (PPE), several faculty members in the college's School of Arts and Sciences collected this essential material and donated them to MJHS Hospice & Palliative Care - one of the largest and most respected not-for-profit hospice and palliative care programs in the region.
The New York Small Business Development Center (SBDC) at York College is a partnership with the U.S. Small Business Administration (SBA) and is providing support services to local business owners, Minority and Women-owned Business Enterprises (M/WBE), and aspiring entrepreneurs during the pandemic, which has brought New York City to a relative standstill.
Serving as a disaster recovery center during Super Storm Sandy and providing assistance to Southeast Queens businesses in the aftermath of the 9/11 attacks, the York College SBDC helped Queens business owners to receive over $18,000,000 in disaster related financing and provided one-on-one assistance on and off-campus.
Now the York SBDC has once again risen to the occasion, submitting more than applications to assist local retailers, restaurants, and other businesses.
The center has been working to target and obtain financing from small community banks and Community Development Finance Institutions (CDFI). To help local barber/beauty shops and churches regain their viability. SBDC has collaborated with not-for-profit lenders including Spring Bank, TruFund, Bank of America, Customers Bank, ACCION, Hanmi Bank, TD Bank, and the National Development Agency to help clients obtain SBA Disaster Loans. Payroll Participation Program (PPP) funding sits in the $25,000- $50,000 range and enables local business owners to grow and expand.
"Our technical assistance provision in the present disaster situation is different and more difficult," said Harry Wells, director of the 32-year-old SBDC at York College. "In the past, we often held large workshops where clients received assistance in completing their applications."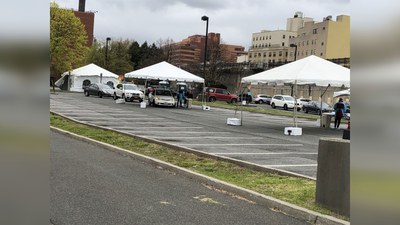 According to Wells, during the last major disaster (Hurricane Sandy), he and his team conducted a seven-hour working session at catering hall, Russo's on the Bay, where business owners received one-on-one technical assistance in addition to sessions held in their office in York's Science Building office. He noted, however, that remote assistance our present remote online assistance is sometimes problematic for clients and business advisors alike. But they are making it work.
Other York services includes the choice of Dr. Selena T. Rodgers, Associate Professor of Social Work at York College, to serve as a partner and panelist for a town hall meeting on health disparities, environmental justice and COVID-19 on May 12th. The community discussion was sponsored by New York State Senator James Sanders Jr., and other Southeast Queens elected officials, and a partnership with St. John's Episcopal Hospital and the National Sorority of Phi Delta Kappa Inc., Beta Omicron Chapter.
York alumni in the health professions: nurses and physician assistants, are also serving on the frontlines of the pandemic. The college is proud of the outstanding training those former students received from their York professors; and the dedication and empathy they now exhibit in their career.
The college has found numerous ways to also support its students. Remote counseling is available to all students who need the service, including the adjustment to distance learning and grief counseling for those who need it. Exercises classes have been created for those who wish to join via digital media; the college's food pantry remains open to serve students by appointment; and the men's soccer team has created a PSA encouraging everyone – York community and beyond -- to practice healthy habits mandated by the governor and others.
York College thanks its students, faculty and staff, who quickly adopted the new mandate to stay safe, stay fit and serve both the York family and the larger community.