York mourns the passing of Mrs. Velma Adams
It is with sadness that we announcing the passing of Mrs. Velma Adams (1945-2020), a high school music teacher based at York College's YECCA Program last year, mother of Professor Mark Adams (Music) and widow of the late Performing and Fine Arts chair, Ken Adams, at York.
More than that, Mrs. Adams was a faithful donor to York through the Scholarship named in her husband's honor. Even before her stint as an adjunct at York, she was a frequent and gracious attendee at York events.
A graduate of Howard University, where she majored in Music Education/General music with a minor in piano and taught in the Baltimore City schools, Mrs. Adams later earned a graduate degree in Music Education at Morgan State University and upon moving to New York, taught Music at Lawrence Road Middle School in Hempstead and earned a degree and certificate in School Administration and Secondary School Administration/Principalship. According to her beloved son Mark (her only child and "the anchor of her life"), she "had a tremendous affect on her students and touched many lives throughout her career. She was tough, but fair and did not hesitate to stand up for what she believed. Velma was well-liked and respected by her students and colleagues."
Mrs. Adams served on the choir of All Saints Catholic Church and served as assistant choir director. She loved All Saints Church and served there faithfully until she moved to New York. In 1980. She developed the General Music curriculum for grades 7 and 8 as well as an excellent Choral program, teaching students a variety of musical styles. Velma served as Nassau Music Festival Chair and later joined the executive board of the Nassau Music Education Association. She also served as Festival Vice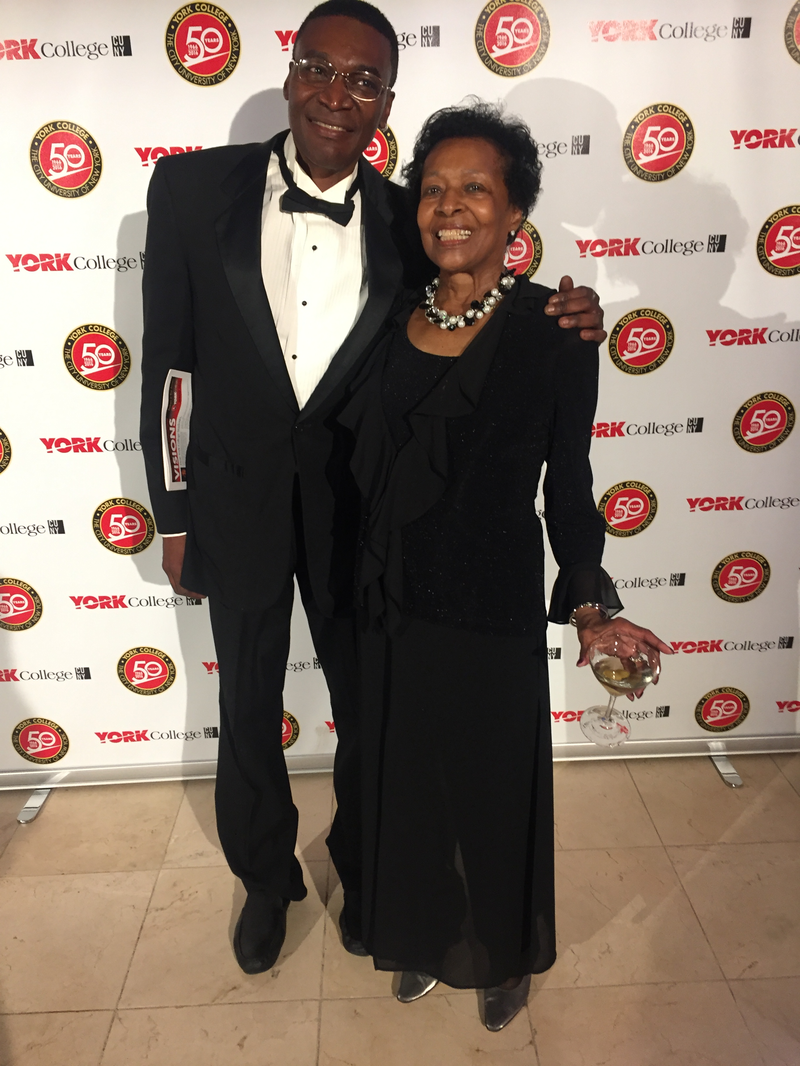 Ms. Velma Adams (left) and her son Mark Adams attended York College's 50th Anniversary Celebration.
President for several years, eventually becoming President of the Nassau Music Education Association.
Velma became an Assistant Principal in the Uniondale School District. She was assigned to a Turtle Hook Middle School where she worked from 1980-1999. She was a vibrant, strong, and effective administrator who cared about the kids and teachers and always lead by example. Velma developed a Peer Mediation program, designed to limit and eliminate the number of fights that occurred in and outside the school. The program proved to be most successful in changing how the students handled conflicts. In 1999, Velma was assigned to Uniondale High School, where she served as assistant principal for 10 years. She implemented several programs there as well. Parental involvement was very important to Velma. She said it was the key to every child's success.
In 2008, Velma retired from the Uniondale School System. She was well celebrated by students and staff. Her influence as a teacher and assistant principal will never be forgotten. In her last years, Velma began attending St. Luke's Episcopal Church in Forest Hills. According to her son, it gave her purpose and meaning. Her commitment to St. Luke's and her dedicated service were commendable.
Mrs. Adams is survived by her son, Mark, her granddaughter, Marleigh, two sisters, and many other loved-ones.