York Student's Animated Project Is a Winner
Hastride Eduoard takes a simple assignment beyond the request of her professor and explains her experiences of COVID-19 through animation.
York student, Hastride Edouard wants to be an animator when she graduates thanks to her final project in English 384 R3, it is obvious she is off to a great start. Ms. Edouard submitted a self-voiced animation of her overwhelming grief over coronavirus pandemic and the death of a best friend's father from it.
The animated short was what she chose to do for Professor Jillian Abbott's Writing for Electronic Media (ENG 384 R3) course.
"The work I got from this class was extraordinary," Prof. Abbott said in an email to Dean Donna Chirico. "A true testament to their grit and determination against the calamity of the coronavirus. This link to one of my student's final digital projects, which I believe truly captures, in just three minutes and 13 seconds, her/the experience of New York in the time of coronavirus."
According to Abbott, the original assignment (in conjunction with Bath Spa University in the UK) was focused on climate change. "[But] once the college closed, I gave students the choice to draw on their experiences of lockdown. The work they did individually was wonderful and taken together it constitutes a powerful and moving record of the most disjointed time I can remember."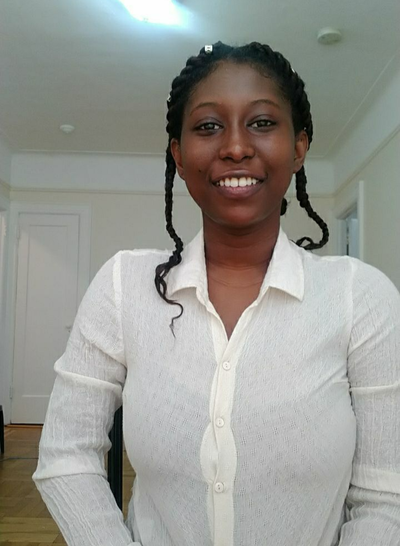 Ms. Edouard wanted to express her gratitude to her professor and explain her process.
"I am truly grateful for it all. I also want to especially say thank you to Professor Jillian Abbott. It was such a pleasure learning from her," she said. "[Her dedication and hard work this semester to make transitioning to distance learning as smooth as possible encouraged and inspired me to keep going with my studies and not give up. I know many others from the class would have said the same."
Hastride's work has even gained the praise of Dean Donna Chico. "It just makes me feel proud as the Dean of Arts and Sciences to know how faculty and students have responded to the challenges, they faced this term," said Dr. Chirico. "Their indomitable spirit is what makes it #OneYork. This is a testament to the efforts of faculty and students alike during this time of crisis."
Hastride has generously given the college permission to share her project. We applaud her talent and wish her well with her goal to be a professional animator.