Dr. Ghelli Publishes New Book in Italian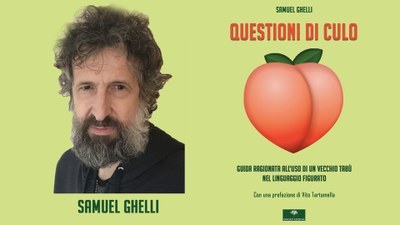 Dr. Samuel Ghelli says it seems that "no word in the Italian language carries as many meanings as the lexeme 'culo' (literally 'ass'").
According to Ghelli (Department of Foreign Languages, ESL, and Humanities) "Che Culo!" The use of the Italian word "ass" in the figurative language from taboo to today. He further describes it in his own words here.
"The 'culo' is not only naturally fluent ('speaking,' 'chatting,' 'blathering,' etc., are just a few of its prerogatives), it is also eloquent in the sense that it can express a wide range of meanings - often contrasting and at times even antithetical. In this volume, Dr. Ghelli collects the many idioms that have grown up around the word culo in the Italian language, tracing their origins and revealing their background. The phrases included were culled from various sources, including dictionaries and other reference books, literary texts, periodicals, and more. Dr. Ghelli's research also draws on references from song, cinema, and social media, where not only coarser expressions easily find space, but new playful epithets are formed, and old banalities are reformulated in new ways. Although filled with cultural references and based on serious academic research, the book has a popular slant. Both the subject matter and the fresh, entertaining tone make this work appealing to both scholars and a wider audience."
The book, "Questionic Di Culo" (sub-title is included on the cover seen in this posting) and is  available on Amazon. It is officially coming out in bookstores  in Italy later in June (2021). 
*Dr. Ghelli, whose areas of expertise includes 20th Century Italian Literature, is a native of Italy and has published other books and numerous articles in his field of expertise and done numerous presentations. He teaches Italian and World Literature at York and served on the college's Green Initiative Committee.