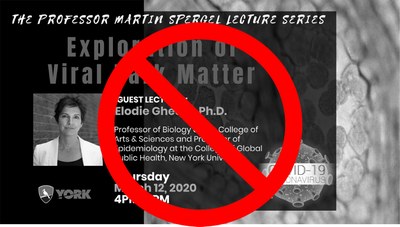 Cancelled: The Professor Martin Spergel Lecture Series Presents: Exploration of Viral Dark Matter
Due to the risks associated with large gatherings under the current threat of the COVID-19 virus, we are canceling the Spergel Lecture originally scheduled for Thu, Mar 12. It will be rescheduled for the fall semester.
In Honor of One of York College's Founding Faculty, Dr. Martin (Marty) Spergel
Overview
Viruses are both highly abundant and diverse. They play an integral role in human health and in the environment through their interactions with the surrounding microbial community. Despite their abundance and functional importance, they are largely understudied compared to their bacterial counterparts. I will present our studies on the characterization and discovery of viruses in different environments and the relationship of viruses with their hosts in health, in disease…and in the New York City wastewater system!
Lecture Speaker
Prof. Elodie Ghedin, Ph.D. is a Professor of Biology at the College of Arts and Sciences and Professor of Epidemiology at the College of Global Public Health, New York University. Her laboratory uses comparative genomics, evolutionary biology, and systems biology techniques to generate critical insight about host-pathogen interactions. Prof. Ghedin's research program meets at the interface of molecular parasitology, microbiology, and genomics and focuses on the molecular basis of macroparasite (nematode) adaptation to niches in their human hosts, and microparasite (virus and bacteria) diversity and interaction in transmission and virulence.
Prof. Ghedin received her BS in Biology and Ph.D. in Molecular Parasitology from McGill University (Montreal, Canada). She was named a MacArthur Foundation Fellow (2011), A Kavli Frontier of Science Fellow (2012), and an American Academy of Microbiology Fellow (2017).
Moderator
Professor Timothy Paglione, Ph.D., Chair of the Department of Earth & Physical Sciences
Event Details
Thursday, March 12, 2020
4:00 PM

Academic Core Building 3H13