Music Theory Placement Exam
Below is a sample of the York College Music Theory Placement Exam, which is available for all students beginning the music theory sequence. A passing grade on this placement exam will place students into MUS 208 Music Theory I and MUS 209 Ear Training I. For more information on music theory placement, please contact Dr. George Lam, coordinator of the music program at York College.
About the Exam
This exam tests your knowledge of music theory in five standards:
Major scales and key signatures
Minor scales and key signatures
Intervals
Triads
Seventh Chords
The results of this test will only be used to determine your starting level in the York College music theory sequence; your results on this test will not be part of your academic record. You may only take this test once. You must pass all five standards in order to place out of MUS 110. The passing grade for each standard is 10 points. You have up to 60 minutes to complete this exam.
Standard 1: Major Scales and Key Signatures (12 points)
Write the following major scales, with one whole note per bar, using accidentals only. Do not use a key signature. (6 points)

Write the key signature for the given key. Be sure that sharps and flats are placed in the correct positions and are in the correct order. (6 points)

Standard 2: Minor Scales and Key Signatures  (12 points)
Write the following natural minor scales, with one whole note per bar, using accidentals only. Do not use a key signature. (6 points)

Write the key signature for the given key. Be sure that sharps and flats are placed in the correct positions and are in the correct order. (6 points)

Standard 3: Intervals (12 points)
Identify the following intervals by providing the 1) quality and 2) size (e.g. "major 2nd"). Do not use abbreviations. (6 points)

Complete the given intervals by providing a note above the given note (i.e. an "ascending" interval). (6 points)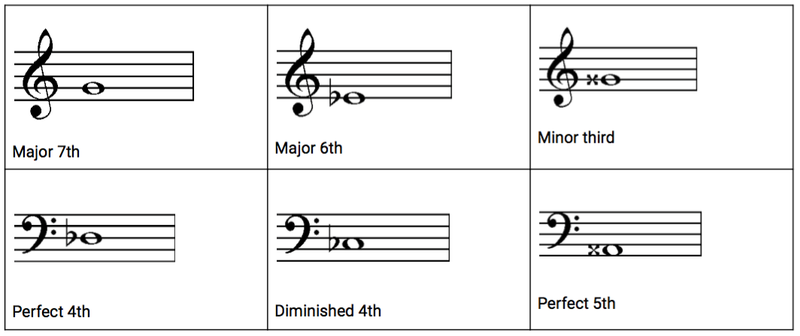 Standard 4: Triads (12 points)
Identify the following triads by providing the 1) root and 2) quality (e.g. A major). Do not use abbreviations. (4 points)

Write the following triads with the given root and quality. Use accidentals where necessary. (4 points)

Given the key and Roman numeral, write 1) the correct key signature and 2) the triad. (4 points)

Standard 5: Seventh Chords (12 points)
Name the 1) Root and 2) Quality of the following chords (e.g. A diminished 7th, D dominant 7th). You must correctly provide both the root and quality for full credit. (6 points)
Write the following chords with the given root and quality. (6 points)